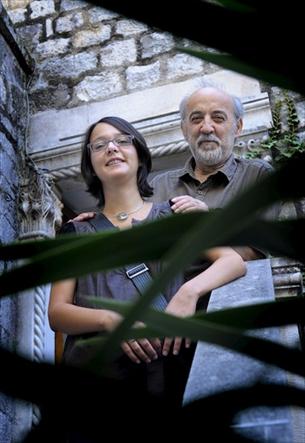 Marina Majić Petit (Split, 1981) obtained an MA in Art History and English language and literature at Faculty of Humanities and Social Sciences, University of Zagreb in 2007. Since 2010 she has been enrolled at the same university in PhD Art History programme.
During 2006. she spent three months as an intern at Peggy Guggenheim Collection in Venice and in 2007. she worked at the 52nd Bienniale di Venezia in the United States pavilion. She has been participating in the establishment and organization of Splitgraphic International Graphic Art Biennial from its beginnings in 2003. During the third, fourth and fifth Splitgraphic she acted as a jury member, curator and general coordinator of the biennial. She curated in September 2009 the retrospective exhibition of Nam June Paik at the Multimedia Centre in Split for the Split festival of new film and video.
Marina Majić participated in multimedia project "Life, work & poetry of Tin Ujević" in 2007 at the Bowery Poetry Club in New York and is the co-author of the Tin Ujević monograph titled "Do not fear! you are not alone".
The book titled "Arhitektura Splita 1945-1960" ("The Architecture in Split 1945-1960") was published by Architects' Association of Split in 2010. This book is a result of long research and interest in post-war architecture in Split. It contains the historical background and survey of fifties architecture in Split, and the analysis of most important objects and architectural oeuvres in the form of architectural guide.