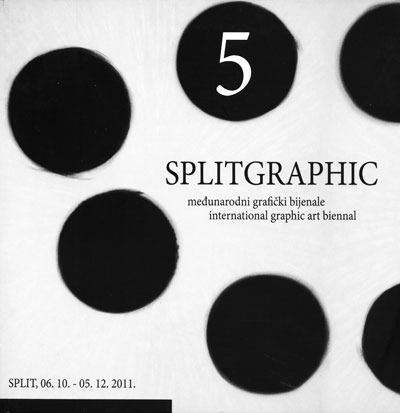 Splitgraphic Biennale is an international art event founded, organised and held since 2003 in Split.
From its beginnings Splitgraphic has been presenting renowned graphic artists through exhibitions, lectures and workshops, and it has been supporting and promoting contemporary tendencies in printmaking, both contemporary and classic graphic techniques. In addition to eight group juried exhibitions, Splitgraphic also organised a significant number of solo exhibitions by Croatian and international graphic artists and printmakers.
The theme or concept of Splitgraphic's exhibitions has changed over the years. The theme of I Splitgraphic 2003 was Diocletian's Palace, chosen as a continuation our graphic and printmaking tradition. II Splitgraphic 2005 established the theme of dialogue, as a fundamental idea that has since been present at all Splitgraphic exhibitions. III Splitgraphic 2007 was marked by a dialogue of women printmakers or graphic artists whose works accounted for two thirds of group exhibition. The Award for Young Artists was established on the third Splitgraphic. IV Splitgraphic 2009 Splitgraphic 4 You Group exhibition and several solo exhibitions were held: Dialogue of Nevenka Arbanas and Maja Franković, an exhibition by Brita Weglin (Sweden) and a retrospective exhibition of graphics by renowned Croatian modernist Dušan Džamonja in the Old City Hall. V Splitgraphic 2011 "Dialogue with the audience"
Group exhibition was held, as well as a solo exhibition and lecture "Graphic World of Hugo Besard", Hugo Besard (Belgium), Grand Prix 2009 VI Splitgraphic 2013 "SUSTAINABILITY" Group exhibition was held, as well as a solo exhibition and lecture by Ingrid Ledent (Belgium), Grand Prix 2011 Group exhibition "Ten Years of the Splitgraphic Biennale 2003-2013: Sustainable Retrospective", 2014, Graphic Centre Vilnius, Lithuania VII Splitgraphic Biennale 2015 "Graphics as the visual language of today" Group exhibition and exhibitions "BODY: Graphic Art in Lithuania 1980-2013" ​​were held with the Graphic Centre Vilnius from Lithuania Solo exhibition and lecture "Light", Marta Lech (Poland) Grand Prix 2013 Solo exhibition VASKO LIPOVAC, Graphics and drawings Splitgraphic 2016 The group exhibition "Contemporary Japanese Printmaking" and the solo exhibition "Antigravity" by Krysztof Tomalski (Poland) were held. Group exhibition "Handwriting in Graphic Art", Graphic Center Vilnius, Lithuania VIII Splitgraphic Biennale 2017 Guest and curator of the group biennial exhibition: Ingrid Ledent (Belgium) Solo exhibition "Found Images" Wojciech Tylbor-Kubrakiewicz (Poland) Grand Prix 2015 Group exhibition "Contemporary Croatian printmakers", Fig Bilbao, 2018 IX Splitgraphic 2019-2020 Solo exhibition Yoshio Imamura (Japan) Grand Prix 2017 Group exhibition "Basquegraphia" with Fig Bilbao The Splitgraphic Biennale has so far collaborated with the Vilnius Graphic Centre,Fig Bilbao, International Triennial Krakow, International Printmaking Biennial Guanlan (China), International Printmaking Biennial Lodz (Poland) …
From the very beginning of Splitgraphic's activities, Marina Majić Petit has been collaborating on all biennial exhibitions, and since 2007 she has been actively working as curator and coordinator. She graduated in art history and English language. After a student internship in the Peggy Guggenheim Collection, and participation in the work of the Venice Biennale, upon her return to Split she started working on organizing and leading the Splitgraphic's program. She also works on juries, writing forewords and essays for Splitgraphic catalogues, and for group and solo exhibitions of graphic artists from Croatia and abroad. International Graphic Biennial Splitgraphic, was launched by Pavo Majić in his gallery Studio Naranča. Pavo Majić is a graphic artist himself. He has exhibited his graphic art at numerous international biennial exhibitions, as well as at the world's oldest and most prestigious International Graphic Biennial in Ljubljana (Slovenia) in 1995. The president of the jury and curator of the biennial that year was Pierre Restany, a world-renowned authority in the field of fine and graphic arts. This partly influenced the decision to launch a graphic event in Split. Although the first and decisive reason for starting the biennial was that Split has a long and interesting history of graphic art. Here we primarily mean the graphic map of Robert Adam, a British royal architect, who with his collaborators printed an excellent and valuable graphic map of Diocletian's Palace in Split, which was a European bestseller in the 18th century.
All information on Splitgraphic: www.splitgraphic.hr & www.studionaranca.com
Contact e-mail: [email protected]
Marina Majić Petit, curator and international project director of Splitgraphic
Pavo Majić, director Splitgraphic Biennial
KLIKNI OVDJE ZA HRVATSKU VERZIJU