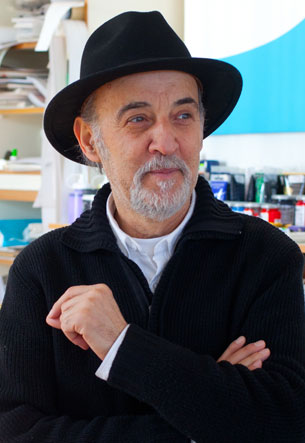 Pavo Majić (1949), had over seventy solo and group exhibitions in Croatia and abroad: in Split, Zagreb, Dubrovnik, Sarajevo, Ljubljana, Beograd, Skoplje, Stockholm, Ibiza, Venezia, Berlin, London, New York, Heidelberg, Hydra, Tokyo, Lisabon Toulouse, Porto, etc.
He was awarded for his graphic work MEDITERRANEO in London and Stockholm and for "Portrait of TIn Ujevic" from POETS series in London in 2005.
In 2005, WORLD OF ART BOOKS published his work in the monograph MASTERS OF TODAY / 100 CONTEMPORARY ARTISTS / THE BEST ARTISTS IN OUR TIME.
In 2006 WORLD OF ART magazine published his work in the monograph FAMOUS 100 CONTEMPORARY ARTISTS printed in 50.000 copies in London and distributed in book shops in Europe, the USA, and Australia.
In 2003, in Split, Pavo Majic became the founder and director of the International Graphic Biennial SPLITGRAPHIC. This year SPLITGRAPHIC is listed as one of the essential art events along with La Biennale di Venezia, Biennale of Sidney, Documenta Kassel, Biennale de Paris…
Pavo Majić's exhibition "HOMAGE TO TIN UJEVIC" in WERKSTATT DER KULTURE in Berlin from 4th December to 29th January 2006, included portraits of 26 poets and was chosen by the press as the most successful exhibition only after Picasso's retrospective in the National Gallery in Berlin.
So far, he has published three books: DO NOT FEAR! YOU'RE NOT ALONE! – Homage to Tin Ujević with Marina Majić Petit (2006); THE ANATOMY OF BREATH poem published in a limited edition as THE BOOK OF ARTISTS (2016); "THE ROLLING ORANGES," travel and autobiographical records (2018). All the books are published in Croatian and English.
For many years, he was a participant in the manifestation Memories of Tin. Together with Arsen Dedić, Goran Matović, Tonko Maroević, and others, the manifestation marked and promoted the Poetry and Charisma of the greatest Croatian Bard of the written word. Thus, in 2007, he stayed in New York, where he had the exhibition of portraits from the graphic map dedicated to Tin Ujević at the Bowery Poetry Club. That same night, a poetry evening transpired; people read Tin's poetry, as well as Marina Majić Petit's essay on his exciting and turbulent life. She, too, attended this tremendous and above all exciting event. On that occasion, Anne Waldman, Patti Smith, and Sam Shepard had the first encounter with Tin's poetry, which they all rated as excellent.
Pavo Majić's works can be found in public and private collections worldwide, and some museums and galleries of modern and contemporary art: the Ljubljana Modern Gallery (Slovenia), the Dubrovnik Modern Gallery, the Hydra Museum of Contemporary Art (Greece), the Okinawa Museum of Modern and Contemporary Art (Japan).
Many of his graphic sheets are in numerous Annals, Biennials, and Triennials' collections around the world, where they have been exhibited.
He is the author of five graphic maps: POP PORTRAITS (1992), HOMAGE TO TIN UJEVIĆ (1995), POET PORTRAITS (2002), HOMAGE TO BOB DYLAN (2006), and MEDITERRANEO (2012).
He is a member of the Croatian Association of Artists of the Applied Arts – ULUPUH, the Croatian Association of Artists – HDLU, and the Croatian Association of Independent Artists – HZSU.
He lives, works, and walks by the sea in Split.